Virtual Tastings
---
Bring your Friends & Family together Online for a Private Tasting lead by our Winemaker. Choose from one of our Programs below or create your own. There is no cost, other than the purchase of 3 or more bottles of wine per participant (1 or more to be included in your tasting). All Programs are fun, educational, and a great way to connect with Friends & Family, near and far. All Programs are complimentary for Club Members.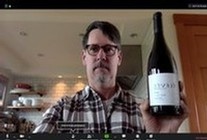 Program: Tasting & Understanding Wine

Description:
Our Winemaker, Tom, will personally lead you and your friends/family through this 1.5 hour Online Tasting. Always fun and interactive, he will present his structured method for tasting and assessing wines. This program will help you better understand wine composition, which will prepare you for thinking about Food & Wine pairing and help you identify the type of wine you like most. Tom will also answer your most burning wine-related questions. Have you ever wondered how long to age a wine or at what temperature to serve? Confused about when to decant? Bring your questions with you. Select 1 or more Élevée wines to include in this tasting.
Cost: Purchase of 3 bottles of wine (at least 1 to be tasted here)
Need:
(1) Select Wine(s) for this Tasting, (2) Download 'Zoom' to computer, and (3) Download App 'WSET Tasting Notes' to phone.

* Note: Detailed instructions will be emailed out to step you through these Downloads and preparations.
Signup:
Call, Text, or Email Us...
(503) 840-8448 | tom@eleveewines.com