Briar Rose Wine & Cheese Sampler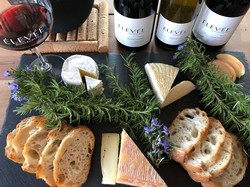 Briar Rose Creamery is a small, artisan cheese maker located in Dundee. Their cheese can be found in local farmers markets and specialty grocery stores. We are lucky to partner with them on this special wine and cheese gift pack which includes Briar Rose Creamery ButterBaby, Damona and Callisto cheese, paired with 2019 "Three Martins" Rose, 2018 Ridgecrest Vineyard Riesling, and 2015 Élevée Pinot noir. Cheeses are approximately 3-4 oz each.
Price includes local (Portland -Salem) delivery on the week of May 18th or May 25th. Or contact us for other available dates. Please call or email ahead for curbsite pick-up. For online delivery orders, please select "Pick up," then select "Complementary Delivery."