UCDavis Aggies Gift Pack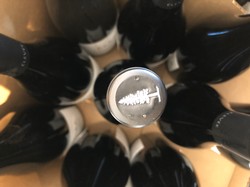 Special Wines & Online Winemaker Tasting
This Special Gift Pack includes: (1) three bottles of Élevée wine, (2) a personalized card, (3) Complimentary Shipping, and (4) and Online Zoom Tasting with our UCDavis Alum Winemaker & Owner Tom Fitzpatrick.
Bottles Included -
1 bottle - 2017 Élevée Vineyard Pinot noir (94pts pdwr, 93pts WE)
1 bottle - 2019 Élevée "Three Martins" Rosé
1 bottle - 2019 Élevée Dry Riesling - Ridgecrest Vineyard
Online Zoom Tasting -
Contact us to schedule: info@eleveewines.com -or- (503) 840-8448

​Note:
- At Checkout, click "Add a gift message" to specify gift card message.
- "Online Zoom Tasting" Scheduling Instructions included in shipment.
- Let us know if you'd like to join other Aggie Alums for you Zoom Tasting?